To uphold health and safety protocols, minimize contact and ensure a swifter entry process, a clear bag policy will be followed at all Cornell Athletics ticketed events.
---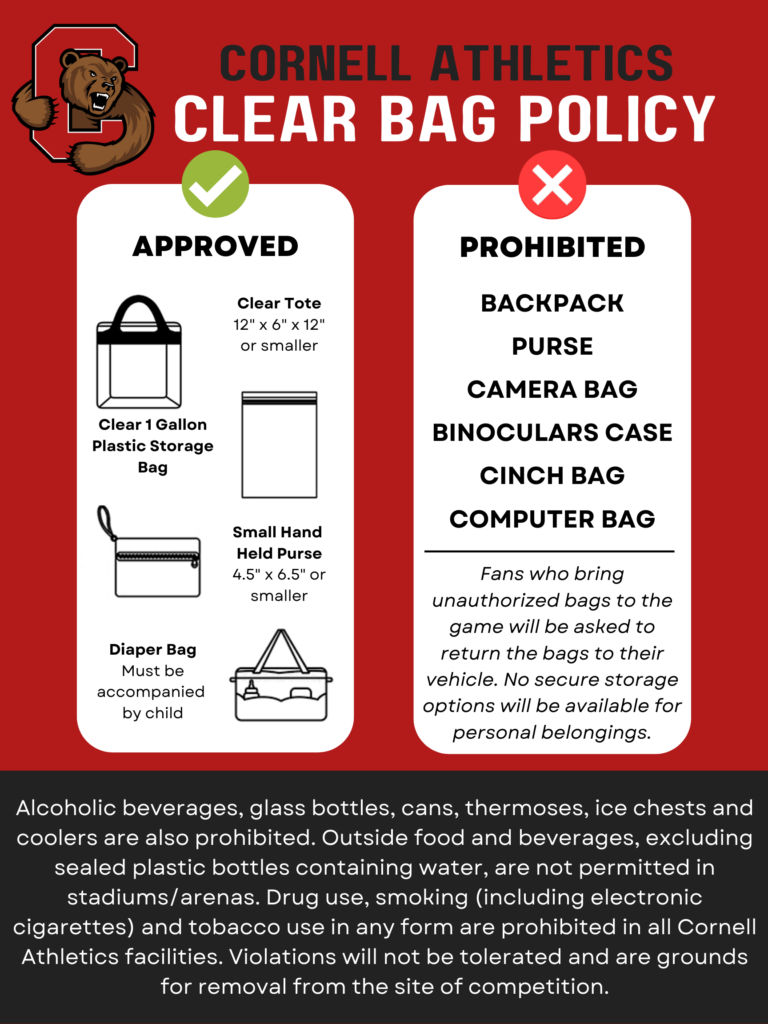 Are bags permitted?

Cornell Athletics strongly discourages guests from bringing bags, but if a bag is necessary, it must be clear and all bags are subject to inspection. Permissible bags include clear totes (not exceeding 12"x6"x12"), 1-gallon clear storage bags, strapless/handheld clutches (not exceeding 6.5″ x 4.5″) and diaper bags (must be accompanied by a child).
How many bags can I bring?

One bag, per guest is permitted.
How do clear bags improve public safety?

The clear bag is easily searched and reduces imperfect bag checks. It also supports the Department of Homeland Security's "If you see something, say something" campaign.
What happens if I arrive to an event with an unauthorized bag?

Fans who bring unauthorized bags to the game will be asked to return the bags to their vehicle. No secure storage options will be available for personal belongings.
Is there a bag check in addition to the clear bag policy?

Any clear bag that is allowed into a Cornell Athletics venue is subject to a bag check.
Are seat cushions and seat back chairs still allowed?

This Seat Cushion Usage Policy is established to ensure a positive and enjoyable experience for all patrons attending Cornell Athletic Events. The policy is designed to permit the use of seat cushions while prioritizing the comfort and convenience of all fans and preventing any disruptions.

Acceptable Seat Cushions:
Seat cushions are permitted at Cornell Athletic Events as long as they meet the following criteria:

The seat cushion is compact and does not obstruct the view or comfort of neighboring fans.
The cushion is made of materials that do not pose a safety risk or nuisance to others.
Cushions with firm bases are encouraged to prevent flattening and maintain proper seating etiquette.
Cushions cannot have pockets, zippers or be in their own carrying bag.


Size and Dimension Limits:
Seat cushions must adhere to size limitations to ensure they do not encroach upon adjacent seating areas. Seats cushions should be 14″x14″ or smaller.

Non-Disruptive Use:
Patrons must use seat cushions in a manner that does not disrupt the viewing or comfort of others. Any use that interferes with neighboring fans' experience, such as excessive bouncing or movement, is strictly prohibited.

Storage and Transportation:
Patrons are responsible for transporting and storing their seat cushions in a manner that does not inconvenience others. Cushions should be easily stowed when not in use, and patrons are encouraged to carry cushions discreetly to avoid obstructing walkways. Storage for cushions must also adhere to the clear bag policy.

Venue Discretion:
Cornell Athletics reserves the right to refuse entry or require patrons to remove their seat cushions if they are deemed disruptive or violate the terms of this policy. Event staff will use their discretion to ensure a fair and comfortable experience for all attendees.

By attending Cornell Athletics events, patrons agree to comply with this Seat Cushion Usage Policy. Failure to adhere to the policy may result in removal from the venue.

Thank you for your cooperation in ensuring a positive experience for all fans at Lynah Rink.
Is this policy for all Cornell sports?

The clear bag policy will be implemented at all ticketed events occurring at Schoellkopf Field (football, men's lacrosse), Lynah Rink (men' & women's ice hockey), Newman Arena (men's & women's basketball) and Friedman Wrestling Center (wrestling).
---
If you have a disability and are having trouble accessing information on this website or need materials in an alternate format, contact [email protected] for assistance.